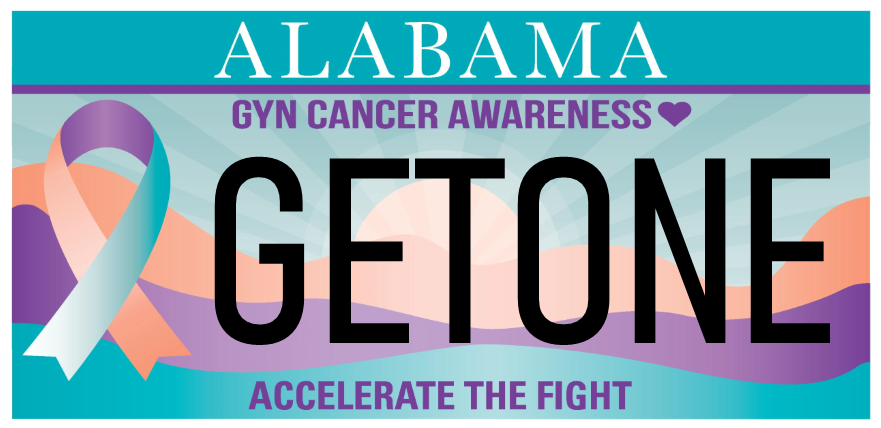 HELP US DRIVE GYN CANCER AWARENESS IN ALABAMA WHILE SUPPORTING PATIENTS AND FAMILIES!
We are excited to introduce our Accelerate the Fight specialty license plate, designed by GYN cancer survivor Tiffeny Curier! Proceeds from the sale of this car tag will benefit our patient support programs, which provide critical financial, emotional, and educational support to GYN cancer patients and their families, as well as survivors and cosurvivors. Pre-order yours today to support thousands of Alabama women and families who are facing the chaos of cancer. Or, if you already have a specialty license plate and don't want to switch but DO want to support our efforts, you can sponsor a tag for a GYN cancer patient or survivor here.
HOW IT WORKS:
1) Pre-order your Accelerate the Fight car tag here.
2) Once we reach the required number of pre-orders, the tag will go into production and you will receive a voucher you can redeem during your specified renewal month.
3) LCBF will receive $41.25 from each $50 car tag purchased, which will go directly to our patient and survivor support programs!
FREQUENTLY ASKED QUESTIONS
WHAT WILL THE FUNDS RAISED FROM THE CAR TAG SUPPORT?
Proceeds raised from the car tag will fund statewide support services for GYN cancer patients and their families, including:
Transportation to chemo and other cancer-related medical appointments

Direct support and basic needs assistance for families in financial distress (ex: mortage/rental assistance, utility assistance, groceries, medication, etc.)

Emotional and educational support for patients, survivors, and cosurvivors/caregivers and family
HOW MUCH DOES THE ACCELERATE THE FIGHT CAR TAG COST?
The tag costs $50 (plus your usual vehicle registration fees and taxes), of which $41.25 will benefit LCBF, and is tax-deductible each year.
DOES THIS TAG REPLACE THE CURRENT OVARIAN CANCER CAR TAG?
No, this is a new tag option that is inclusive of all GYN cancers.
WHAT INFORMATION IS NEEDED TO PREORDER?
You will need to provide your contact information (name, address, phone, and email), as well as the make, model, and current Alabama license plate number of your vehicle.
WHAT IF I ALREADY HAVE A PERSONALIZED LICENSE PLATE?
If you already have a personalized license plate, there is ultimately no additional cost to switch. You will still need to pre-order and pay your $50 now. If you don't want to switch but would like to support our efforts, click here to sponsor a free (for the first year) tag for a GYN cancer patient or survivor.
DO I NEED TO WAIT UNTIL MY RENEWAL MONTH TO PRE-ORDER?
No, you do not need to wait. In fact, please don't - we need your support now! The pre-order process shows the Alabama Department of Revenue that there are enough supporters for the Accelerate the Fight license plate to be manufactured. It is separate from the license plate renewal process. We need to secure 1,000 pre-orders by May 31, 2020.
I'VE PRE-ORDERED, WHEN CAN I GET MY LICENSE PLATE?
When we reach 1,000 pre-orders, the license plate will move into production, which will take about 2-3 months. Everyone who preordered a license plate will be notified via email when the plates are ready, and you will receive a voucher to redeem at your local vehicle registration office.
IS THE FEE REFUNDABLE?
If we do NOT reach 1,000 pre-orders, we will contact you regarding a refund.